Exploration for copper has been rewarded throughout this belt. MTV is poised for a new phase of discovery.
Let's give this some thought…
the EV revolution is on our doorstep
Chile is the #1 global copper producer and the #1 country in copper reserves
46,348 hectares of MTV land
less than 10% explored
97% of all drill holes drilled since 2005 (170,000 meters) were in or around our two deposits, Papomono and Don Gabriel
no exploration drilling since 2007
over 70 exploration targets registered
over 100 outcrop copper occurrences marked
several geophysical anomalies not yet drill tested
Chile is the top copper producer in the world 1 with a historical track record of being the best spot to explore for copper in the world. It also boasts the top global copper reserves 1. 
Chile's popularity as a sophisticated mining region is tied to a number of factors that make it a positive and profitable environment for mining companies. On the resource side alone, Chile boasts large, high-quality copper reserves that are located in regions of the country supported by energy infrastructure, transportation networks and numerous capable providers of goods and services. The country is also rich in skilled labor and is home to mining specialists with deep knowledge of the industry.
Regulated by both domestic and international bodies, as an OECD country, Chile prides itself in having a long history of stable legal frameworks that support both the government and the resource companies. It is a highly respected, transparent jurisdiction and a top investment destination.
TVC is located in the productive Cretaceous belt of Chile that hosts a wide range of copper deposits.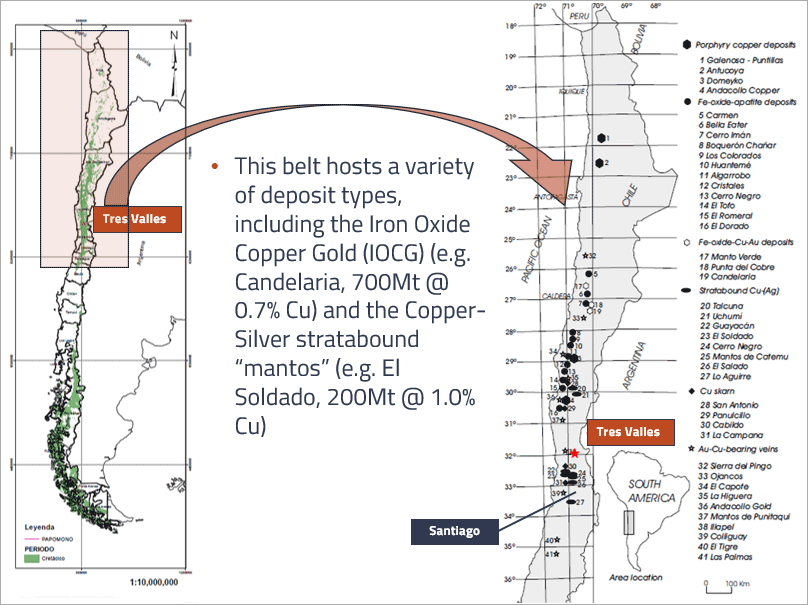 On over 46,000 hectares of land, less than 10% of the property surface was thoroughly explored by Vale – TVC has had no exploration drilling since 2007. We believe this needs to change. Why?