TVC is located in the prolific Cretaceous belt of Chile, an area that hosts many deposits ranging from small to world-class.
The two major TVC deposits, Don Gabriel (open pit) and Papomono (underground), and other known mineralized areas (Figure 1), are located in a 10 km wide corridor of middle to upper Cretaceous volcanic rocks, bounded by north–south-trending faults. They are examples of stratabound, manto-type copper deposits. Intrusive granodioritic to dioritic rocks of the Early Cretaceous Illapel Supergroup are located outside this corridor.
Figure 1: Deposit Plan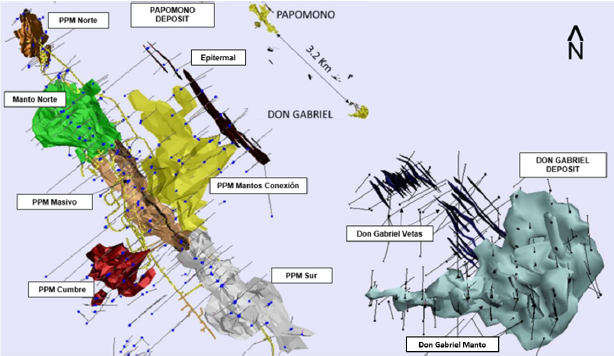 The volcanic units consist of a thick package of flat-lying or gently-dipping beds of lava, pyroclastic and epiclastic rocks. In its type location, the Quebrada Marquesa Formation consists of a 1,900 m thick succession of continental coarse and fine sedimentary deposits, volcaniclastic deposits and lavas, with a marine calcareous and fossiliferous intercalation near the base (Charrier et al., 2007). In the Salamanca–Illapel region, the major lithologies belong to the Quellen Member of the Quebrada Marquesa Formation. These consist of intercalations of andesitic lava, volcanic breccias and agglomerates, with subordinate sandstones. The Quebrada Marquesa Formation is the main mineralization host in the area of TVC's two deposits.
Overlying the Quebrada Marquesa Formation is the Upper Cretaceous Viñita Formation; the contact may be conformable or unconformable (Charrier et al., 2007). The Viñita Formation consists of andesites, basaltic andesites and abundant coarse and fine pyroclastic intercalations. It is divided into two members, the Santa Virginia Member, consisting primarily of oxidized sandstones and conglomerates, and the Rio Manque Member, consisting of lava and volcanoclastic units.
Overlying these units are Tertiary tuffs, which form isolated outcrops. Quaternary fluvial sediments infill river valleys.
Two major faults have been delineated, the Manquehua and Llimpo Faults. The faults result in a sharp contact between intrusive and volcanic rocks, and are also visible in aeromagnetic survey data (Figure 2).
Figure 2: Geology Map, Illapel Region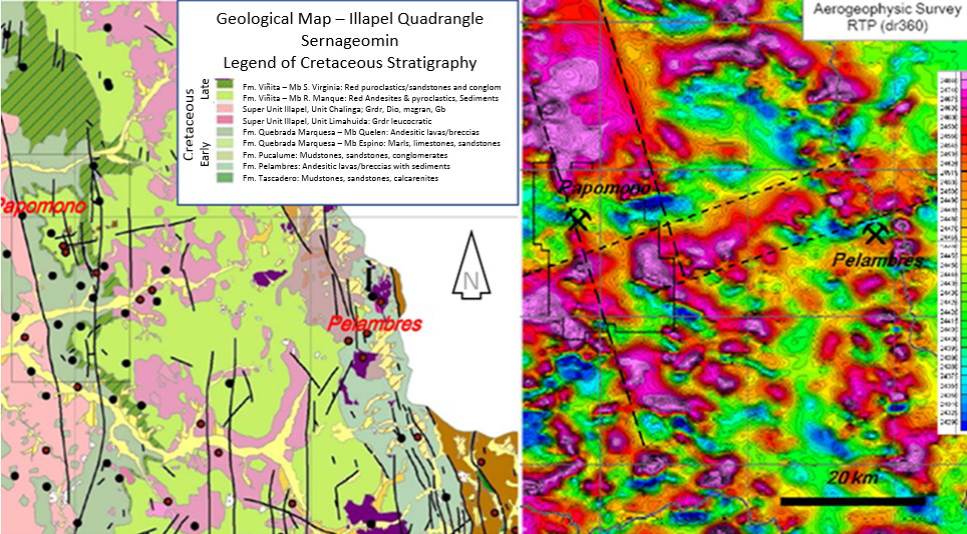 Note: Left figure: a long regional belt of volcanic rocks bounded by batholitic intrusives. Mapping by Sernageomin, 1991. Right figure: reduced to pole airborne geophysical data.
The known mantos-style mineralization within the TVC project area is close to the western Manquehua Fault (Figure 3). The Llimpo Fault, to the east, is less evident and to date, only skarn or vein copper deposits have been found in the fault vicinity.
Figure 3: Regional Geology Plan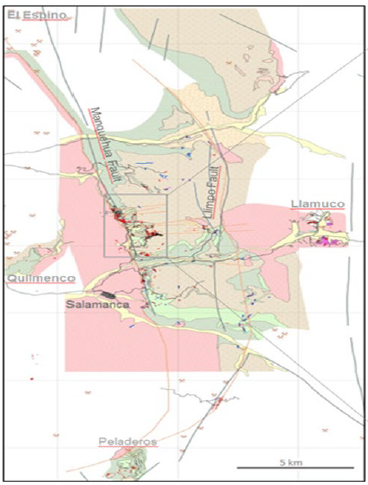 The two current TVC deposits are named Papomono (underground) and Don Gabriel (open pit).
The Papomono deposit has been divided into seven major areas, some of which have sub-zones.
Papomono Masivo
Papomono Norte
Manto Norte
Papomono Sur
Papomono Mantos Conexión
Papomono Cumbre
Epitermal
The stratigraphy observed in the Papomono deposit consists of a sequence of andesites interbedded with pyroclastic rocks of the Quebrada Marquesa Formation.
The dominant hypogene sulphides in the deposit are in decreasing order: chalcocite–covellite (~85%), bornite (~6%), enargite (~5%) and chalcopyrite (~4%). Supergene chalcocite is not common. In places where intense fracturing and faulting occurs, oxide copper minerals occur including chrysocolla, malachite, brochantite and atacamite, with a consequent mixing of sulphides and oxides.
The Don Gabriel deposit has been divided into two major areas.
Don Gabriel Manto
Don Gabriel Vetas
The Don Gabriel Mantos occur in a 110 m thick package of andesites. The mantos are continuous along strike and dip but the thickness can vary from 20–60 m. The mantos can merge and split: typically, there are two main mantos that may join up to form a single manto, and there may be minor mantos adjacent to the main mantos. The mineralized zone is outlined by a 0.2% TCu isograd.
The 100 m thick upper manto zone consists of stratabound, finely disseminated chalcocite mineralization dipping to the south–southwest at 30°. The mineralized zone is developed in amygdaloidal andesites.
In Don Gabriel Vetas, the high-grade copper mineralization follows contacts of sub-vertical microdioritic dikes. These dikes are 1–8 m-thick and, in general have N45°W strike, dipping 50° to 85° to the northeast or southwest. A minor low-grade manto has also been identified.
The zone consists of high-grade stockwork or sheeted veinlets, and disseminated sulphides. The primary copper minerals include chalcocite, digenite and some bornite. The host rock to mineralization is a medium- to coarse-textured porphyritic andesite and/or dioritic to microdioritic dikes.
Five lithological units are found in the Don Gabriel deposit area, all of which are upper members of the Quebrada Marquesa Formation. The units strike N60°W, and dip to the southwest at 25°.
In addition to the major mantos-style mineralization, the MTV Project hosts a cupriferous epithermal vein. 
See the National Instrument 43-101 technical report entitled Minera Tres Valles Copper Project Salamanca, Coquimbo Region, Chile" with an effective date of October 4, 2018 and dated May 27, 2021 (amended and restated) for complete details, available on the Company's website at threevalleycopper.com or Sedar profile at sedar.com.